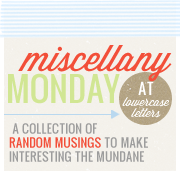 1. Another Monday!

You're thrilled, amazed, inspired that I made it to do a 2nd Miscellany Monday in a row! I knew it. My faithful readers are so cool!
2. Exhausted.

Yes, that's me. Completely exhausted all.the.time! I cannot wait for Avery to be home to take over some of the chores around the house. Then again he might not do them the right way....hmm...it might be time to let go of some of the control me thinks.
3. Book Club
My super awesome book club met this past Sunday. We discussed "The House of the Spirits" by Isabel Allende. Loved the book!
4. Pinterest

Where has this website been all my life?
5. Stanley

My poochie went to the groomer today. He is exhausted. The doggie spa takes a lot out of you apparently. I had an insanely cute picture of him, but yet again blogger refuses to upload a photo for me.