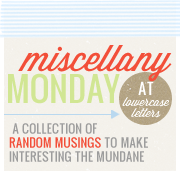 1. Resolved?
I recently took my annual survey that Resolve, the National Infertility Association, asks people with infertility to take so they can get data about infertility. This year I quite obviously have my miracle and so I could answer the question about having a baby thru IVF with a resounding "YES." That was great, but the part that bugged me a little was the next question, which asked me if I felt the infertility had resolved itself now that we had our miracle. I answered, "no" and when they asked why I said, because I feel infertility isn't something that resolves itself generally. You don't stop being unable to conceive naturally just because IVF worked for you one time. To me our infertility will never be resolved. I will still have a twinge of pain when I hear of people getting pregnant normally. I will be envious that people can have their children without scheduling an appointment with a Reproductive Endocrinologist. That's not meant to be negative towards anyone, it's just truth. However, I will come to a point someday, I know for sure, where I will be content with our family and how it came to be. For now I enjoy our baby boy and thank god everyday that I was given the privilege of being his Mommy.
2.Lighter Fare...New Roof
The previous topic was a bit deep, so let's move on to something lighter. On Wednesday of last week, they started on a new roof at our house. The noise has been...well, horrible to say the least. Between the hammering and the roofers shouting at each other, I am amazed Matthew has napped at all. I guess he can sleep through almost anything. It's been an interesting experience.
3.New Church
Our new church so far seems fabulous! We are now members at Holy Trinity Catholic Church in Bremerton. I really like the parish for a few different reasons.
1. No one there has a seat that they always sit in. This is unusual for many Catholics, so when I discovered that I wasn't taking someones seat I was ecstatic!
2. They have an interpreter for the hard of hearing folks. She is fantastic. (I mention this, because MacMurray College, where I went, has a big deaf ed program and I am forever endeared to ASL and interpreting.)
3. The current visiting priest is from Britain and his homilies are filled with interesting stories. I realize he won't be here forever, but just the fact that he's here now rocks my socks.
4. Everyone smiles and says hello! In Hawaii that wasn't the case and so I often felt a bit isolated at church there.
5. They don't mind screaming/crying/talking children. They have an area in the back you can go and still hear the service. This will be great when we bring Matthew (I haven't done so thus far.)
I think that's it for today. Have a good one folks!